Gate Repair Services
Back To Our Services
Fixing Swing Gate Hinges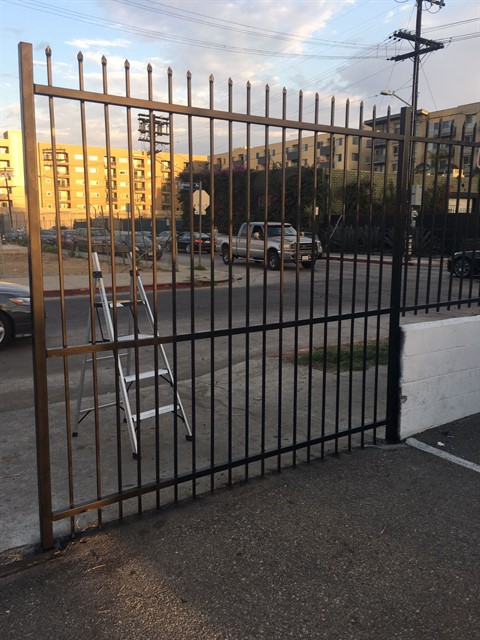 Squeaky noise during opening and closing, unevenness and jamming are the most common signs that there is something wrong with the gate's hinges. Count on us to run a thorough inspection to find out exactly what's wrong with these hardware parts. Sometimes, greasing them is sufficient for eliminating the issue. In other cases, we straighten the hinges and repair the welding to make the gate fully functional once again. In case of extensive wearing or severe damage, rely on us to replace the hinges without wasting time. Our spare parts are made of heavy-duty steel and this makes them strong and durable.
Solving Problems with the Track
The track is the component responsible for guiding the sliding gate into the right direction during opening and closing. When it's in less than perfect condition, the gate may start shaking or get completely blocked. In either case, you can rely on our fast gate repair services. A detailed check will show us what's wrong with the component. Then, we'll straighten the track, if it is bent, and remove any obstructions stuck inside. If the component is close to breaking, we'll replace it with a new one which has the exact same specs. Remember that the track requires regular cleaning for it to work properly.
Gate Repair Services for Openers
Motor failure, broken chain and a snapped sprocket are just some of the issues affecting gate openers. No matter what the problem is, you can rely on us to fix it. Our repair services cover electric operators of all types. The brand is irrelevant too. Whether there is a need for complex motor repair or for replacing a hardware component, we'll do the job quickly and restore the opener's performance. Count on us to do everything necessary for making the system work optimally again including readjustment of the settings and lubrication of the moving metal parts.
Got a problem with your automatic gate? Turn to us, at "Garage Door Repair Bainbridge Island", and we'll deal with it professionally and quickly.